As covered in the section on coverage eligibility, Medicaid coverage of family planning can vary between states and plans. State Medicaid programs are required to cover family planning services and supplies without cost-sharing, but the specifics of that coverage vary. Additionally, Medicaid ABPs must cover all FDA-approved contraceptive methods as required by the ACA. Information about covered services and a Medicaid program's reimbursement policies can be found in provider manuals that each state Medicaid agency should make available online. Be aware that some reimbursement policies may also be contained in supplemental Medicaid provider bulletins or notifications. The National Association of Medicaid Directors provides current links to state Medicaid programs' websites.
Medicaid managed care plans may have their own unique reimbursement policies for LARC methods. Providers should refer to the plan's reimbursement policies or consult the managed care plan's provider relations representative.
It is a best practice for providers to research the coverage details of various public plans and create job aids to provide staff with quickly accessible information. Below is a sample job aid to demonstrate the coverage in different Medicaid plans.
Patients enrolled in Medicaid cannot be charged a copay for covered family planning services or supplies, including LARC methods.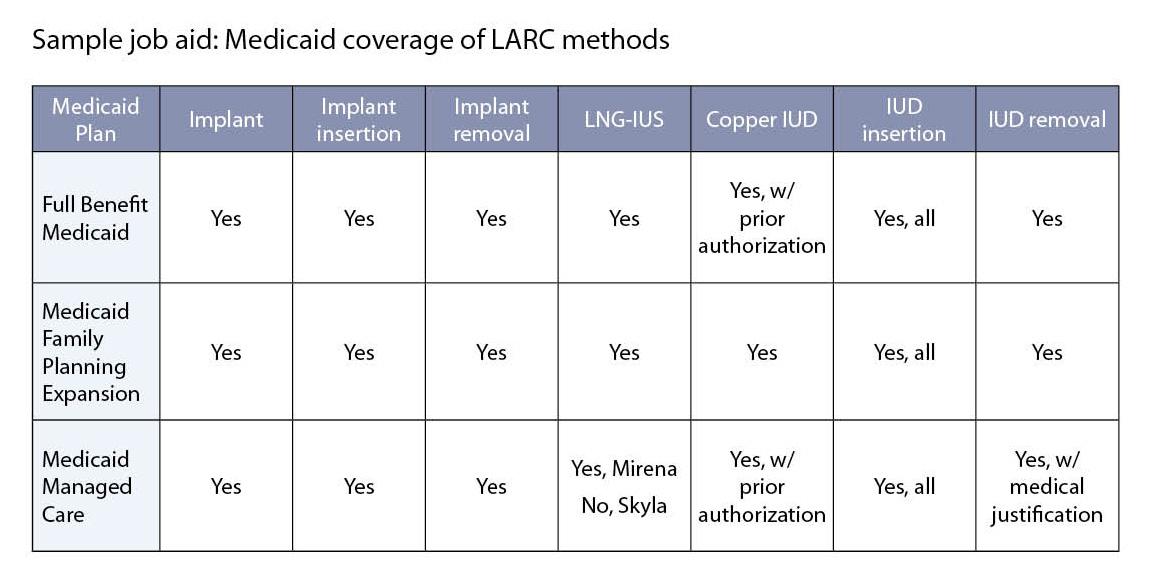 Additionally, verifying the benefits of a patient's individual health plan will help providers ensure coverage prior to the time of service. Going through this step prior to a patient's appointment can help to determine if coverage exists, and if not, what steps the patient and provider can take at the time of the visit to review alternative support methods. Read more about benefit verification in the section on commercial payers.  Read more about alternative support methods in the section on self-pay patients.